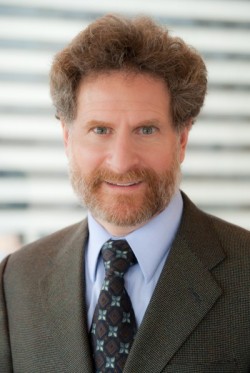 Dr. Scott Zamvil is a Donnie Smith Chair in Multiple Sclerosis Research, Professor of Neurology, and Faculty Member in the Program in Immunology at the University of California, San Francisco. He received his M.D. and Ph.D. from Stanford and his neurology residency training at Harvard's Longwood Program. He was a Harry Weaver Neuroscience Scholar of the National Multiple Sclerosis Society.
Dr. Zamvil is an immunologist and neurologist who is devoted to understanding how CNS antigen (Ag)-specific T cells participate in multiple sclerosis (MS) and neuromyelitis optica (NMO). In his basic science research, his group employs models, including relapsing and spontaneous experimental autoimmune encephalomyelitis (EAE) to study activation and regulation of CNS Ag-specific T cells.  In Dr. Zamvil's early work, he demonstrated for the first time that autoantigen-specific T cell clones could cause clinical and histologic autoimmunity. My group has focused on understanding the role of MHC II-restricted Ag presentation by various Ag-presenting cells (APCs) in activation and regulation of CNS autoantigen-specific T cells.  We have created transgenic and knock-out models that have permitted us to distinguish Ag presentation in vivo by individual APC subsets.  His group has provided the most definitive evidence that B cell APC function participates in activation of self-antigen-reactive T cells and organ-specific autoimmunity. In studies on novel therapeutics, Dr. Zamvil's group provided the first demonstration that cholesterol-lowering statins induce T cell immune modulation and can reverse established autoimmune disease.  Dr. Zamvil then led an NIH-sponsored multicenter placebo-controlled trial of atorvastatin in early MS.
In the last several years, we have applied our experience studying T cell recognition of myelin Ags in EAE and MS to identification of T cells that recognize aquaporin-4 (AQP4), the autoantigen in NMO. Our group provided the first evidence that AQP4-specific T cells exist in NMO patients and in mice. In humans, we observed, (1) the frequency of AQP4-reactive T cells is higher in NMO patients than in controls, (2) T cells specific for the immunodominant AQP4 epitope exhibit a Th17 bias, (3) those AQP4-reactive T cells also recognize a homologous amino acid sequence in a Clostridium perfringens ABC transporter, suggestingmolecular mimicry, and, recently, (4) there is an overabundance of C. perfringens in the gut microbiome of NMO patients. We have examined the repertoire of AQP4-specific T cells in mice.  We identified the pathogenic T cell epitopes of AQP4 and demonstrated that T cells targeting them can cause paralysis and opticospinal inflammation. Our findings indicate that the T cell repertoire to AQP4 is regulated strongly by negative selection.  Currently, we are examining those elements that control selection of AQP4-specific T cells and evaluating how the gut microbiome may influence development of AQP4-specific T cells.